Wy Are Cushion Cut Diamond Engagement Rings So Popular? 
If you're looking to propose in style, there are few better choices than a Cushion Cut Diamond Engagement ring. It is known for its exceptional glimmer or fire and looks equally stunning in a three-stone setting as it does in a solitaire.  The cushion cut diamond has a squarer shape than its classic round brilliant counterpart and is more akin to the radiant or princess cut diamond rings you'll find. Its rounded corners are a standout feature, as are the brilliant-style facets which give the diamond its famed 'cushion' shape. The unique shape of this diamond type means it looks extra brilliant; in other words, you'll benefit from more 'bling'! Best of all, you won't find two cushion cut diamonds that look precisely the same as there are always differences in shape; some may be a little squarer while others could be rounder. You'll also find them in a variety of settings including:  
Cushion      Cut Diamond Pave Set Engagement Ring
Cushion      Cut Diamond Halo Engagement Ring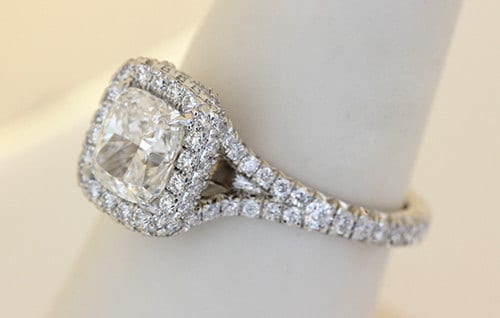 The Recent Cushion Cut Diamond Craze 
Perhaps the term 'craze' is going a little over the top but this magnificent piece of custom bridal jewelry has seen a significant rise in its popularity in the last few years. Cushion cut was once referred to as an old mine cut. This cut makes the diamond appear even more radiant with glimmer. The fact that top celebrities such as Sofia Vergara (8-carat) and Kim Kardashian (15-carat) have been photographed wearing these rings has certainly helped with the cushion cut diamond's popularity!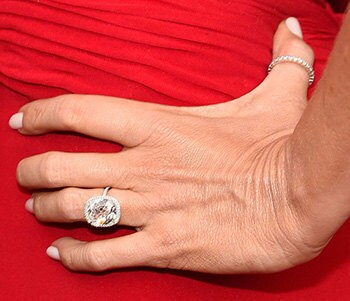 http://www.etonline.com/awards/sag/156790_sofia_vergara_huge_engagement_ring_makes_its_red_carpet_debut/
 How to Pick the Right Color & Clarity Combination 
As gorgeous as diamond cut engagement rings are, you can make them look even more magnificent by following these tips: · Always aim for F-G color. · Look for VS-SI clarity. · The best metals for the setting include rose gold, yellow gold, white gold, platinum. While rose gold is currently #1 in terms of popularity, classic platinum remains a timeless classic. Be sure to follow the guidelines for color and combination but we would suggest that the best metal setting is entirely up to your individual taste. There is no better way to show your love for that special someone than by offering a Cushion cut Diamond Engagement Ring stamped with your unique personality.